Introduction
I often see my students with sad faces when I want to practise some of the reading tasks of the PET exam with them. They think that reading is boring or that it is very difficult so they lose motivation very quickly.
With the big update to the B1 Preliminary test in 2020 this will probably change. The whole exam makes more sense and PET is more related to the higher-level Cambridge English examinations like B2 First or C1 Advanced. Also, the tasks are not only about reading because they test your grammar and vocabulary as well.
It is really important that you know what the different parts of the Reading paper look like, what exactly you have to do, how to prepare and, of course, the best tips and tricks so that you can pass the exam easily.
In this article I'm going to give you a general overview over the PET Reading exam. You will learn about the structure of the exam and what each part is about.
Don't get stressed
Before 2020, Reading and Writing were combined in one paper. With the last update Cambridge English split up the two and now you have six tasks with a total of 32 questions to answer and you only have 45 minutes to do all of it.
In order to be comfortable with this stressful time limit you have to study the right strategies and techniques to be efficient and effective when you go through the Reading paper of the PET exam. Luckily, you are in the right place. Keep reading and find out what the different tasks look like and some general strategies that might help you save time and feel cool, calm and collected when you take the test. 😉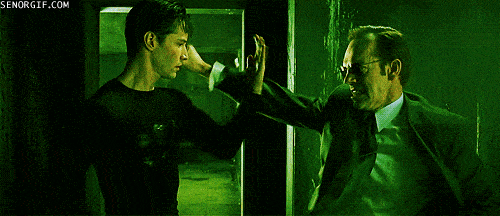 The different parts of the Reading paper
In the PET exam there are four different parts which you have to do one by one in the exam:
Reading

Writing

Listening

Speaking
Reading is quite difficult for many students because it is made of six different parts and you have to read a lot in a pretty short time (45 minutes), and it counts 25% towards your overall grade in B1 Preliminary.
The good thing is that you can use specific strategies and techniques to save time and to have a greater chance of getting good marks, but, first of all, let's see what the different parts look like.
Part 1 – 3-option multiple choice
You get five short texts, for example notices or messages, which you might find in real life. For each text you have to choose the best option A, B or C.

Part 2 – Matching
In this task you get the descriptions of five people who all want to do, buy or experience something similar. Match each person to one of eight options.

Part 3 – 4-option multiple choice
In Part 3 of the PET Reading paper you read a longer text (see the example below) and answer five question. For each of those questions you choose from four options A, B, C or D.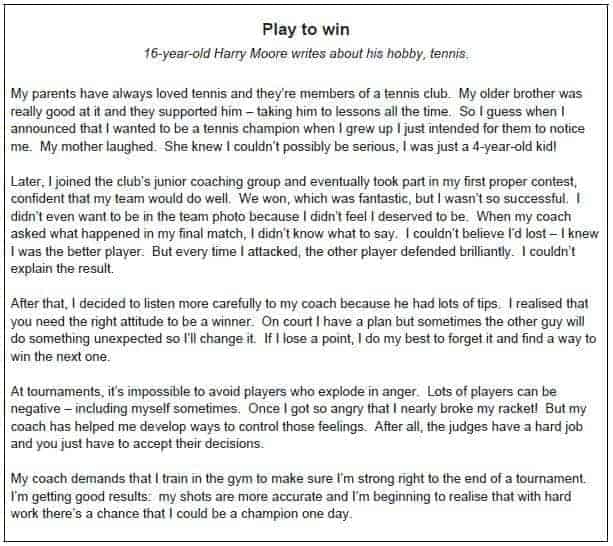 Part 4 – Gapped text
Part 4 is one of the more difficult ones in B1 Preliminary. From the text five sentences have been removed. You need to choose from eight possible options A-H to fill the gaps.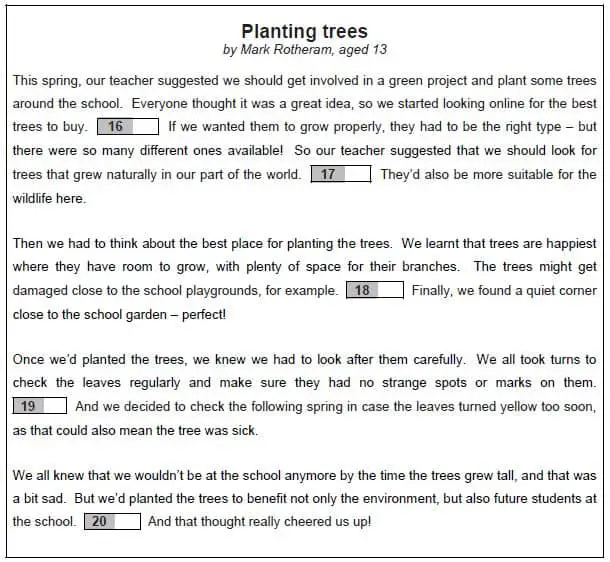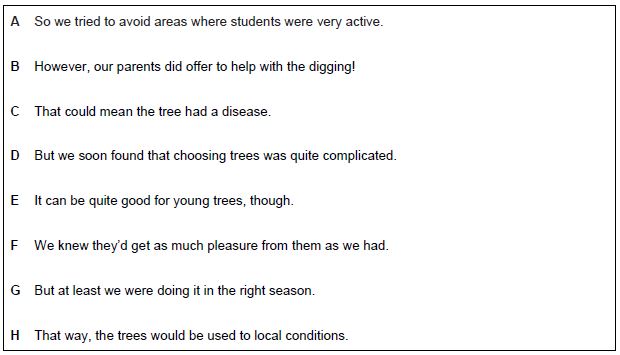 Part 5 – 4-option multiple choice cloze
Again, there is a text for you to read. Six words have been removed and you choose from options A, B, C or D and fill the gaps.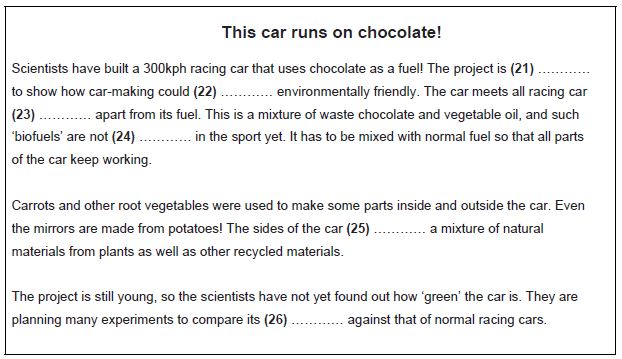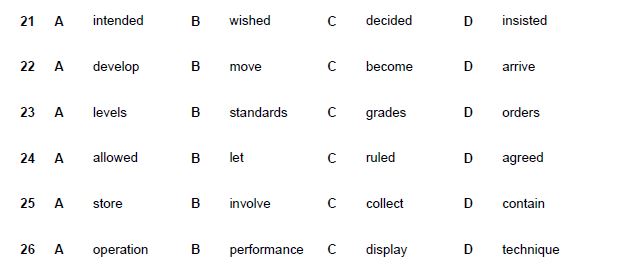 Part 6 – Open cloze
This part is similar to Part 5, but you don't get any options to choose from. Instead, you have to think of the word for each gap by yourself.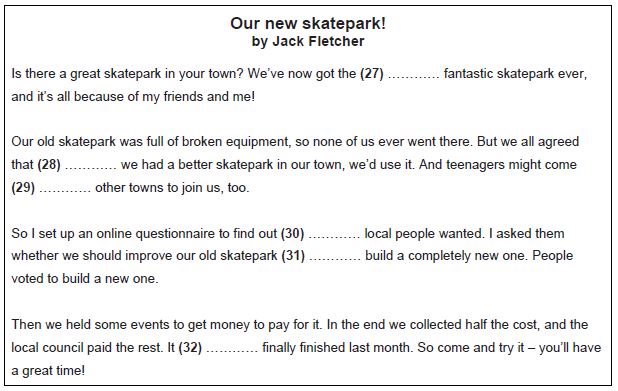 If you want to get more specific information about the different parts of the B1 Preliminary Reading paper, check out my other articles.
Strategies for PET Reading
All this information can be overwhelming and I understand I you feel a little stressed, but please don't worry too much. I'm going to give you a few ideas to think about which can help you with your time management and your overall strategy going into the exam.
Think about the order of the tasks
In B1 Preliminary you don't have to start with Part 1 and move through the exam the same way you find it in the paper. In fact, you can decide what order you prefer and this means that you can choose the perfect strategy for yourself.
For example, if you feel that you get tired quite quickly if you have to read longer texts, leave Part 1 until the end and start with the longer tasks like Parts 3 and 4. That way you might stay focused for a longer time.
Another possible way of thinking about it is to do the parts first that test your grammar and vocabulary (Parts 5 and 6) more than your general understanding of the text.
These are just two examples of how to look at the Reading paper, but make sure that you prepare a plan so you feel more confident when you take the actual exam.
Think about your timing
As described earlier, you only have 45 minutes to finish all the tasks in the Reading test. Included in this time period are a few minutes to transfer your answers onto the separate answer sheet, which leaves you with around 40 minutes for six tasks.
When you practise for the exam you should definitely time yourself to see which tasks take longer and which ones you can finish faster. With practice you will become more comfortable and develop a better feel for the different task types.
Once you're in the exam you know how much time you have and when you should move on to the next task without feeling stressed and adding more pressure.
How to prepare for the Reading exam
Apart from the right strategies there are a few things that you can do to develop your language abilities (grammar and vocabulary) as well as your reading skills.
Don't forget about language practice. Many students only focus on exam strategies and are then surprised when they realise that their grammar and vocabulary are not good enough for PET.
A great way to combine everything is, of course, to take classes where you can find people like you who want to get ready for B1 Preliminary. You get the chance to study together and help each other in preparation for the big day. In one of my articles about the PET exam I describe where you can find a good school. You can click here if you want to find out more.
Obviously, you should read regularly to improve your reading speed and skills like general or detailed understanding as well as your range of vocabulary. 10 minutes every day before going to bed or when you are on your way to or from school/work can already make a big difference.
If you want to practise and improve your grammar, I recommend a good book like English Grammar in Use. You can click here to check it out on Amazon.
Time to practise
Don't waste any time. It is never too early to start preparing. Get the materials you need and practise so you won't have any problems when it is time to take the official exam.
I hope my article helps you achieve your goal.
Lots of love,
Teacher Phill 🙂