Introduction
Let me start with this: A lot of my students hate reading and writing. They think it's difficult, boring, stupid or a combination of all three. When I want to practise with them, I can see fear, stress and hate in their eyes. 🙂
Luckily, Cambridge changed the exam a little bit in 2020. With the update, A2 Key is now more similar to the higher-level tests like B1 Preliminary or B2 First. The tasks are more interesting and my students have enjoyed their practice more.
Now, A2 Key Reading and Writing has seven parts (five for the Reading part and two for the Writing paper) and you have 60 minutes to complete everything. For many students, that is not a lot of time.
Because of this, it is really important that you know exactly what you have to do in each task, how you can save time and how you can get the highest marks possible.
In this article, you will get a general idea of Reading and Writing. We are going to see what each task looks like and look at a few things you should think about, for example, your timing.
The different parts of Reading and Writing
In the A2 Key exam, there are three different parts that you have to do:
Reading and Writing

Listening

Speaking
Reading and Writing might be the most difficult part of the test because it combines two exam papers and you only have a very short time to finish everything (60 minutes). It counts 50% towards your total score in the exam so it is very important to understand the different parts very well so let's look at them a little bit more carefully.
Part 1 – 3-option multiple choice
In Part 1, you get six short real-life texts like notices, messages, emails, signs, etc. With each text, there are three sentences and you have to choose the sentence that best shows the meaning of the text.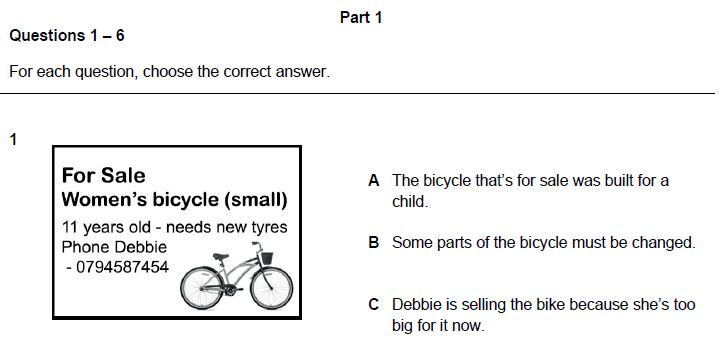 Part 2 – 3-option multiple matching
In Part 2, you read seven questions and three short texts about the same topic. You need to find the answers to the questions in those texts.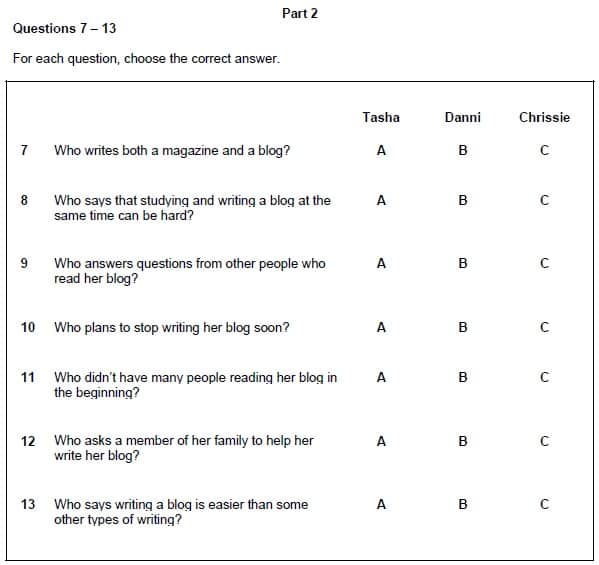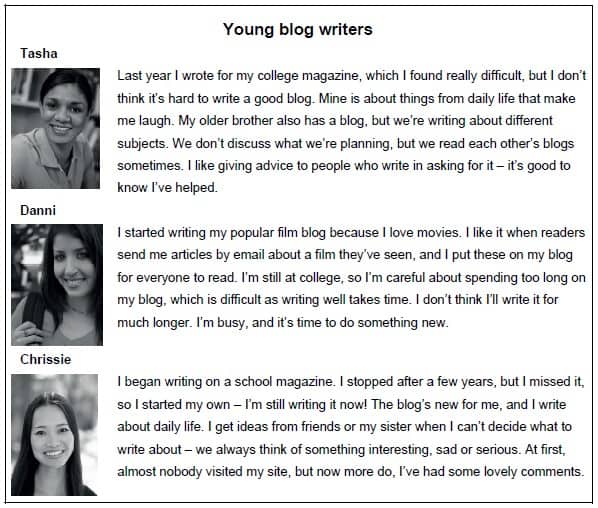 Part 3 – 3-option multiple choice
Part 3 includes a longer text and five questions. For each question, you get three possible answers A, B or C.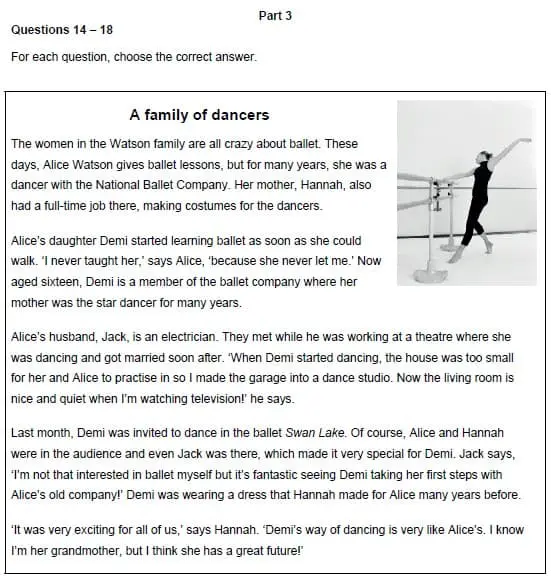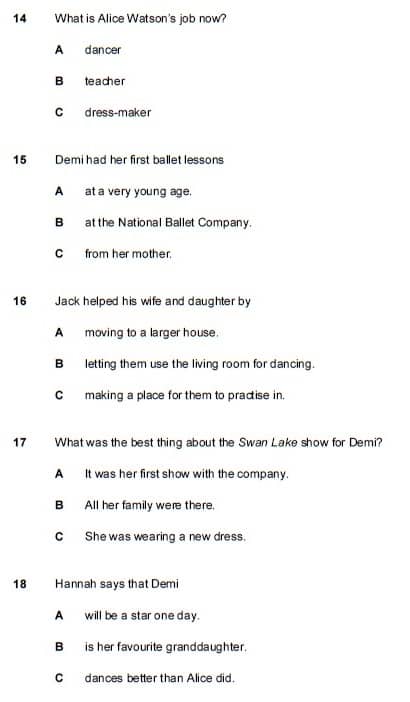 Part 4 – 3-option multiple-choice cloze
The text in Reading and Writing Part 4 is a little bit shorter than in Part 3. There are six gaps in the text and for each gap you have to choose the best word from three possible options A, B or C.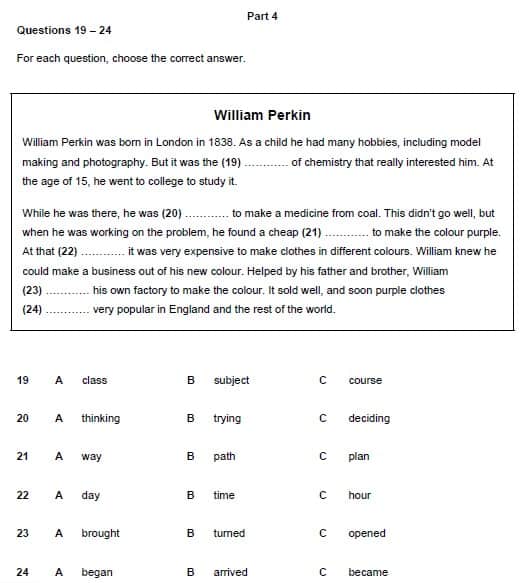 Part 5 – Open cloze
In Part 5, you always have to look at an email (and sometimes a reply to the email too). In the email, there are six gaps and you have to think about the perfect word for each gap. You don't get any possible answers, but you have to decide yourself.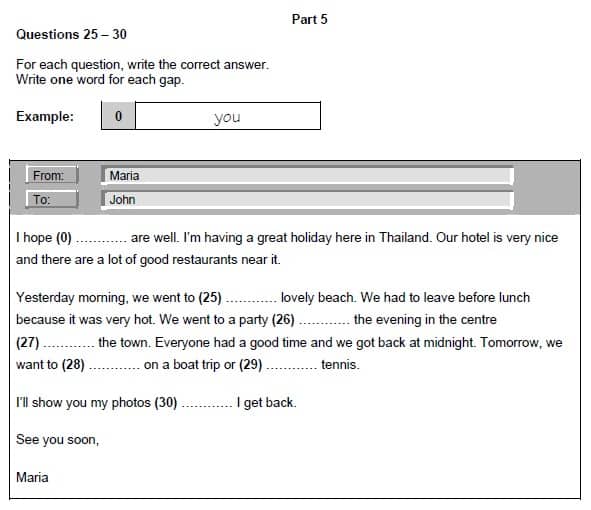 Part 6 – Guided writing
Part 6 is the first writing task in A2 Key. You have to write a short email or note with at least 25 words. In the task, you get some information that you have to include in the email.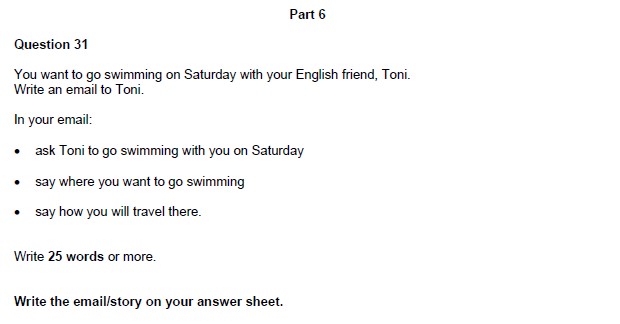 Part 7 – Picture story
In Part 7, you get three pictures and you have to write a story about those pictures. You must write at least 35 words.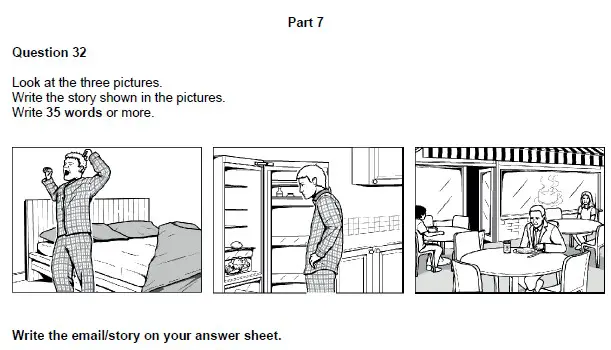 Strategies for A2 Key Reading and Writing
I know that you might feel stressed now because there are so many different parts in Reading and Writing and you have to think about a lot of things if you want to get ready, but I will give you a few tips that you can use in your preparation.
Think about the order of the tasks
Many people just start the test with Part 1 and move through the tasks in the same order as the exam gives them them. There is nothing wrong with that, but for other people it can be better to change the order and go through the exam differently.
One way is to start with the longer reading tasks because at the beginning, you still feel fresh so it might be a good idea to do the longer parts first.
Other candidates prefer doing the grammar and vocabulary parts first (Parts 4 and 5) and leave the reading tasks for later.
Last but not least, you might want to start with the writing tasks (Parts 6 and 7) and then do the rest.
It is really your decision, but sit down and think about the best order for yourself. Don't compare yourself to others, but find out what is best for you.
Be careful with your timing
Time management is another big point in A2 Key Reading and Writing. I said earlier that you only have 60 minutes to finish the whole exam paper. You also have to remember that you have to transfer all your answers onto an extra answer sheet which you get at the beginning of the test. If we say that you will need around five minutes to do that, you have around 55 minutes to do seven tasks or around eight minutes for each part.
Make sure that you check how much time you need when you start practising and find out which parts you can do quickly and which ones need more time. Work on getting faster so you can definitely finish before the time is up and do the exam without feeling stressed.
How to prepare for Reading and Writing
In the previous part, I told you a lot about exam strategies, but don't forget about developing your language skills. If your grammar and vocabulary are not good enough, you cannot pass A2 Key.
The best way to put everything together is to take English classes. There are many great schools around the world where you can prepare for A2 Key with other people who want the same thing as you.
To find out where you can find a good school, click HERE.
Outside of language classes, you can also do many things to improve your English. Read and listen to things regularly. Just a few minutes per day can already make a big difference. Use the time on your way to or from school/work or just before bed to practise and get better.
Time to practise
It is never too early to start practising. Use the information on teacherphill.com and other websites to become better and to get ready for A2 Key.
Lots of love,
Teacher Phill 🙂