Introduction
A letter/an email is written in response to the situation outlined in the task. Letters/emails in the C1 Advanced Writing paper will require a response which is consistently appropriate for the specified target reader. Candidates can expect to be asked to write to, for example, the editor of a newspaper or magazine, to the director of a company, to a school or college principal, or to a peer. Letters/emails will not be limited to a narrative element, but will also require candidates to carry out other functions, for example, to reassure somebody, to correct a misunderstanding, or to justify a course of action.

from: Cambridge English Advanced Handbook for Teachers
Emails and letters are not mandatory tasks in the C1 Advanced Writing paper. Instead, you have different options as they are in Part 2 with proposals, reports and reviews. The only type of text you have to write is an essay.
Emails and letters are similar
Many candidates believe that letter writing and email writing are two very different things when, in fact, they are pretty similar. We are going to look at the structure and layout as well as some other stylistic aspects like useful language so you know what the similarities and differences are.
In addition to that, you will also find out more about planning your email/letter and I'm going to take you through a full example with all my whole thought process and everything else you need to know in order to be successful in this kind of task.
---
>>> Find out more about how your writing tasks are marked in C1 Advanced! <<<
>>> Get a FREE grammar and spelling correction tool HERE! <<<
---
What a typical email/letter task looks like
Email and letter tasks in C1 Advanced always look quite similar and you can look at them the same way. So, we are going to check out a typical task and collect all the information we need to get started.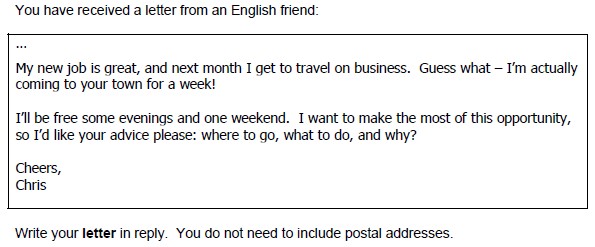 When you look at a task like this (and this applies to all the different writing tasks like essays, proposals, reports ans reviews) you should always ask yourself the same three questions to make sure that you know exactly what is expected of you:
What is the topic?

What exactly do I have to include in my letter/email?

Who is going to read my letter/email?
With these three questions in mind, let's look at our task again.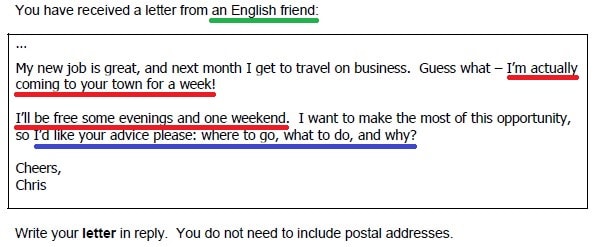 I've underlined the key information in different colours as they show the answers to our questions.
First of all, you want to get an idea of the topic (red) – What are you going to write about? Here, your friend Chris is coming to your town for a few days including a weekend and he would like to spend some time with you.
Secondly, we need to think about the exact content of the letter so we make sure to only include relevant things. In this example, your friend asks you for three things (blue): where to go, what to do and why to do those things.
Last but not least, it is really important to analyse who is going to read your letter/email because it tells you about the right register (formal, neutral, informal) to use in your text. In our case, we are writing to a friend, which means that we can use informal language.
The rules of informal language are fairly simple: use contractions like 'I'm' or 'don't', use colloquial expressions ("Hi, how is it going?") as well as phrasal verbs and other more informal language such as interesting adjectives, adverbs and punctuation.
In summary, you are going to write an informal letter to your English friend Chris who is going to be in your town for a few days including a weekend and he wants you to make some suggestions where to go, what to do and why.
---
>>> Learn everything you need to know about C1 Advanced! <<<
>>> Get your FREE grammar and spelling tool NOW! <<<
---
How to organise your email/letter
As I said before, all letter and email tasks in C1 Advanced are (more or less) created equal. The structure is generally similar so we can apply the same organisational pattern to every single task.
With that in mind, let's look at the example from earlier again: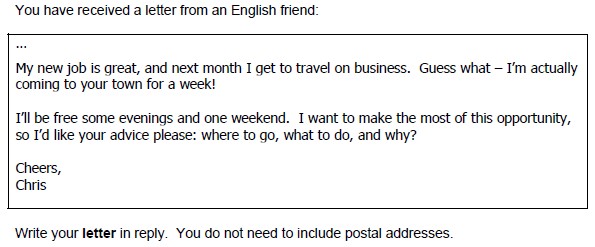 We found out that there are three things that need to be covered: where to go in your town, what to do and why. You will see in the future that almost all email/letter tasks in C1 Advanced ask you to include two or three things. Here, we can probably combine the why with the first two topic points and split it into things to do in the evening and at the weekend so we get to two main paragraphs.
On top of that, every letter or email needs a salutation (Hi Phill, Dear Phill, etc.), some kind of introductory paragraph in which you respond to the other person's message and, last but not least, a final sentence (I look forward to hearing from you; Talk to you soon; etc.) and a closing phrase (Kind regards, Phill; Love, Phill; etc.).
All of this put together results in an outline that looks something like this:
Salutation

Intro

Where to go, what to do and why during the week

Where to go, what to do and why at the weekend

Final sentence and closing
There you go. This structure works for pretty much any email or letter task in the exam. You might have to adjust the number of main topic paragraphs to three, but that's it. Now, we are almost ready to get started, but first…
Make a plan for your email/letter
Before you can jump into writing an amazing letter or email you should really think about what exactly you want to include. Take a few minutes at the beginning of the task to make a little plan by simply adding a few key words to each of the sections from above.
This can save you a ton of time later on because you'll know exactly what you want to write in which part of your text and you won't have to redact and rewrite everything with only ten minutes left in the test.
So, be smart and always make a plan.
---
>>> Do you want to know more about C1 Advanced? Click HERE. <<<
>>> Interested in other languages??? <<<
---
The different parts of an email/letter
By now, you should have learned what a typical writing tasks for emails or letters in C1 Advanced looks like, how to organise your ideas and that making a plan is crucial for your success in this exam. The next step is to take all this information and turn it into a great piece of writing, and I'm going to show you how exactly to do it step by step.
Salutation & introduction
I put these two parts together because you need them in every single email or letter you write and they really go hand in hand. The salutation or greeting is basically just a different expression for saying hello to someone while the introduction is there to state why you are writing or to react to someone else's message.
The good thing about all of this is that I'm sure you have done this before in your own language and English is very similar to that. Your job is to figure out what the examiners at Cambridge want from you and then you simply tick all the boxes and move on to the main paragraphs.
Hi Chris,

How are you doing? I'm happy that your new job is going well (You have to tell me all about it!) and super excited that you're coming to my town for a few days. I really look forward to showing you around.
I didn't do anything crazy here. As the letter should be informal, I chose an informal salutation (Hi Chris) as well as contractions (I'm, you're) and a few nice expressions (How are you doing? super excited, showing you around).
Remember that this is only the intro to your letter. You shouldn't make it too long because you want to focus a little bit more on the main topic paragraphs.
Topic paragraphs
Once you're done with the introduction, you can get straight into the main part of your email/letter. The topic paragraphs are the most important sections and you want to make sure that you give a detailed response to the things Chris wants to know.
As mentioned earlier, in this specific example, I think that two paragraphs make the most sense as we can include the reasons for our choices within each part.
During the week it'd be easier to stay closer to your accommodation. There are a bunch of great restaurants and bars we could check out. I mean you are a foodie after all, so I know you'd appreciate some of my favourites as well. Apart from that, we have to try this new whiskey bar that some of my mates have been raving about, but I haven't been there myself so it'd be nice to go together. What do you think?

At the weekend we can try and get away from the hussle and bussle and explore the mountains and go for a nice hike if you fancy. There are plenty of trails around town so let me know if you are up for an adventure and I'll figure out where exactly we can go. How about visiting Crystal Falls or Parker Bridge, the longest suspension bridge around here with some beautiful views? It might not be too crazy in terms of crowds around this time of the year so you can get some piece and quiet before heading back home.
The two paragraphs stick to the point (where to go, what do do and why during the week and at the weekend) and they are full of informal language (highlighted for you). I used contractions, phrasal verbs and other informal expressions to give the paragraphs a friendly and loose feel.
Final sentence and closing formula
To finish off our email or letter we still need a nice final sentence and closing formula, which can be anything from a very formal 'Yours sincerely' to an informal 'Love'. It all depends on the task and on the most appropriate register.
Well, those are my ideas. Why don't you think about it and let me know what you're most into? I'm sure it's going to be a ton of fun!

Talk to you soon,

Phill
Once again, there is nothing special in my final sentence or closing formula, just a little bit more persuasion and informal language to end the letter.
Useful language for emails/letters
 
formal
informal
Opening formula

Dear Mr/Mrs/Ms XY, (if you know who you are writing to)




Dear Sir/Madam, (if you don't know who you are writing to)

Hi XY,




Hello XY,




Dear XY,

Intro

I am writing to …




I am writing in reference to …




Thank you for you letter/email.

How are you?




How's it going?




How are things?




How have you been?




Great to hear from you!




It's been ages!

Final sentence

Thank you for considering my application.




I am available for an interview …




I can be contacted on [number] …




I look forward to hearing from you soon / in the near future.

Well, I have to go now.




That's all for now.




Anyway, I should get going.




Drop me a line soon.




Catch up soon.




Take care.

Closing formula

Yours sincerely, (if you know who you are writing to)




Yours faithfully, (if you don't know who you're writing to)




Kind regards,

Best wishes,




Love,




Lots of love,




Talk to you soon,




All the best,




Take care,




Warm regards,
How your email/letter is marked
Marking C1 Advanced writing exams is a pretty complex process with a lot of different things to consider. However, it is very important for you to understand this process so you can adapt your own writing and make sure that your texts meet or even exceed expectations.
To put all the information in this article would really be too much information at once, but I have another article that you can check out and learn more about the marking system.
---
>>> Learn more about how your C1 Advanced writing is marked. <<<
>>> Get a FREE grammar and spelling correction tool HERE! <<<
---
Don't waste any more time
Get ready to practise what you've learned in this article. You can find tons of example tasks online and get better fast. I hope my information will help you become a world-class C1 Advanced email and letter writer.
Lots of love,
Teacher Phill 🙂