Introduction
An essay in the C1 Advanced Writing paper is usually written for an academic tutor and may be written as a follow-up to a class activity, such as attending a seminar or watching a documentary. The main purpose of the task is to underline relevant salient issues on the stated topic, and to support an argument with subsidiary points and reasons. An essay should be well organised, with an introduction, clear development and an appropriate conclusion. It should hold the target reader's attention and communicate complex ideas using an appropriate range of vocabulary and structures.

Source: Cambridge English C1 Advanced handbook for teachers
Essays are part of the first section of the CAE Writing paper. The task is mandatory, which means that you always have to write an essay unlike the other texts (emails/letter, proposals, reviews, reports) where you can choose which one you would like to tackle in the exam.
Essay writing is not that difficult…
…if you know what you are doing. For most students, essay writing feels like this huge obstacle that they won't be able to clear when, in fact, it is not as bad as you might think.
Just like every other writing task in C1 Advanced you can apply a specific structure because the different tasks share the same characteristics. Obviously, the topic changes and the input you get from the question differs, but, essentially, it is like repeating the same task over and over again. For this, you can become pretty good at essay writing in a short time just by practising regularly until most of it becomes almost automatic for you.
Long story short, in this article I'm going to take you by the hand and guide you through all the different aspects of essay writing. We're going to see what a typical essay task looks like, the structure and language and, of course, common problems and mistakes you should avoid on your way to mastering essays.
What a typical essay task looks like
As mentioned earlier, essay tasks in C1 Advanced look very similar to each other and once you understand what those common features are, you will see that everything becomes a lot easier. A typical task might look like the one below: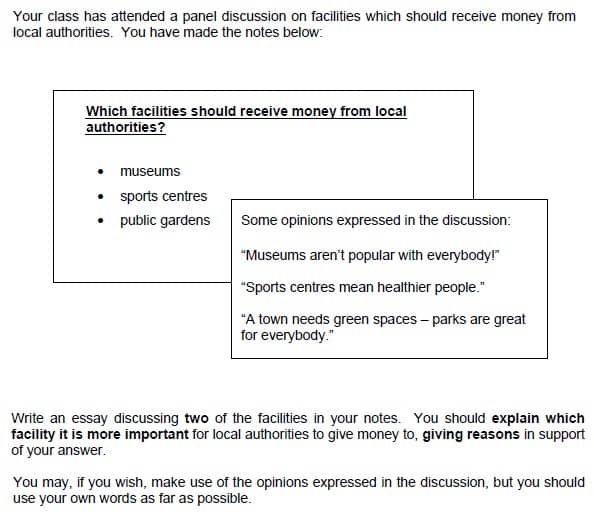 Every essay writing task looks like this with the content changing, but the structure staying exactly the same.
There are also a few things highlighted for you in bold which are definitely important for you to consider when you plan and, later, write your text.
First of all, in the bigger box there is always the question you have to answer and three options to choose from and, as the rubric tells you, you have to pick two of them. These two points need to be discussed and compared and then you explain (with reasons!) which option you think is better, more suitable, nicer or whatever the task asks you to do (Here: Which facility is it more important for local authorities to give money to?).
Apart from that, you are also gifted a few ideas in the smaller of the two boxes. You can use these in your essay (You don't have to.), but make sure that you don't just copy them word for word. Instead, paraphrase them and make them your own, or simply come up with your own ideas.
If you have ever written a Cambridge B2 First essay, you will immediately see the similarities between the tasks, but in C1 Advanced there is less support for you and you have to make more decisions on your own before you can even start to make a plan for your text. Read the whole task very carefully and then choose wisely based on what feels best for you in any given case.
Formal or informal language in an essay?
I'll keep this short for you because this works in every single task: Keep your language formal, which means no contractions (I'm, don't, etc.), no colloquial expressions (Hey, what's up?, I liked it heaps., etc.), and no slang or phrasal verbs that convey informality (I'm bursting vs. I have had enough to eat; carry on vs. continue).
How to organise your essay
OK, we know now what we have to do and what kind of language we have to use so it's time to look at the organisation and structure of a good essay.
When organising a piece of writing you should always think about what it is that you have to include in your text. In a C1 Advanced essay there are basically four things:
Introduction

First topic point

Second topic point

Conclusion
From that, we can make four paragraphs and this applies to every single essay you are going to write to practise or in the official exam.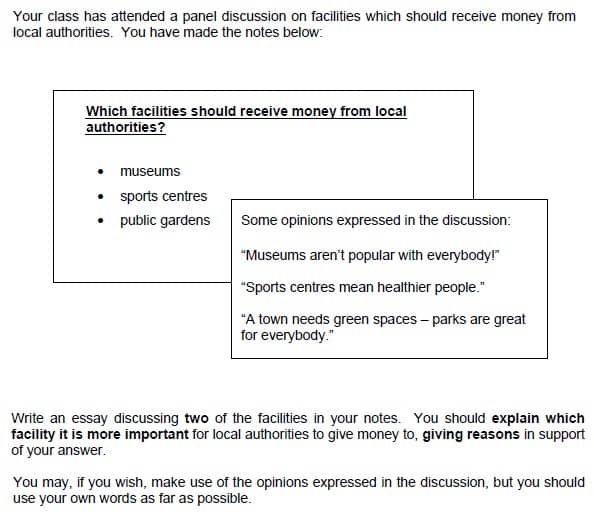 Let's have another look at our example from earlier. The three options are museums, sports centres and public gardens. Museums and sports centres are both buildings and probably similar to talk about so I'm going to choose sports centres and public parks, just because we can contrast them better in my opinion.
Adding our two topic points to the list from before, this specific essay structure looks like this:
Introduction

Sports centres

Public parks

Conclusion
So there you go. I think that the process up this point is fairly simple and from there most students jump right into the deep end and start to write their essay – but not so fast!
Plan before you start writing
One of the most crucial yet most undervalued tools for excellent writing is a good plan. Unfortunately, I see too many students skip this step and they often end up revising their texts over and over until they run out of time and the result is still not satisfactory.
Please don't make the same mistake. It takes around five minutes to make a plan which helps you organise your thoughts and ideas in a way that makes sense. You will be able to focus on your language and arguments instead of worrying about possibly forgetting to include content while saving you time. It works and you should do it as well.
To make your plan just take the list we created above and add a couple of thoughts to each point so you know what you want to write about.
Introduction (panel discussion, local authorities, sports centres & public gardens –> Which one is more important?)

Sports centres (public health, wide variety of activities, social aspect)

Public parks (green lung of the city, place to relax from city life, social outdoor activities)

Conclusion (sports centres better choice –> more variety, more social, greater health benefits)
It took me 4 minutes to create this plan. I used the idea from the task for sports centres ("Sports centrs mean healthier people."), but I paraphrased it (public health) while the idea for public parks seems too vague for me so I left it out. Remember that it is optional to include these thoughts in your essay. if you feel that you have better ones, go for it.
The different parts of an essay
So far, we've looked at a typical essay task and we put everything in order. The next step, of course, is to put our pen to paper and turn our ideas into a great essay. Please be aware that these are simply my recommendations and if you feel that they are helpful, you're welcome, and if not, modify them or change whatever you think makes more sense for you.
Introduction
The introduction to your essay serves several different purposes. It presents the topic/question to the reader and puts it in context, introduces the topic points you are going to discuss and creates interest and anticipation in the reader.
All of this sounds like an awful lot of stuff to include, but with a little bit of practice you'll find out that it is a fairly repeatable process. Once you've got the hang of it, you'll produce one great introduction after another without having to think about it too much.
With all that being said, let's look at a possible introduction for our example task.
In recent years, public funding for local facilities has become more problematic for many towns, which has become more obvious to me after listening to a panel on the financial needs of several different local facilities like sports centres and public parks. As these places battle for funds, the main question is which ones deserve the money more.
Let's have a closer look at this intro. At the beginning the whole issue is put into the context of the financial problems many local authorities have experienced. Sports centres and public parks as our two topic points are included as well and, last but not least, a question is asked to create a little more interest in the reader.
With all our boxes being ticked we can now move on to the next part of the essay.
Body
After you finish your introduction, you can turn your attention towards the main topic paragraphs. These are called 'the body' of you essay. I always compare it to a hamburger where the introduction and the conclusion are the bread bun while the patty, lettuce, tomatoes and sauce are the body. You want to make your essay tasty so make sure that the body is just as great as your intro.
Your topic paragraphs should be longer than the introduction and conclusion, but at the same time balanced and about the same length between the two of them. Remember, however, to stay within the limit of 220-260 words total.
A couple of characteristics that are useful and important for every topic paragraph are the following:
Start with a topic sentence that makes it clear what the paragraph is about.
Always support your arguments with reasons and/or examples.
Avoid being too personal unless you give your own opinion at the end of the paragraph.
This is not rocket science, but let me show you what I mean in a couple of examples.
It is widely known that sports centres provide many different benefits to the local community. Someone on the panel mentioned that, from a public-health standpoint, it is crucial to offer opportunities to exercise in order to keep everyone healthy physically as well as mentally due to the social character of sports. In addition to that, exercise comes in many different shapes and forms, from team sports to individual activities like swimming, so there is something for everyone to enjoy in a dedicated group of people.

While green spaces in a town or city have their own benefits, it can be difficult to maintain such large areas in order to keep parks pleasant and inviting to everyone. Nevertheless, considered by many as the green lung of a city their use as a refuge from hectic city life cannot be debated, and groups of people as well as individuals can be seen following their favourite pastime or socialising with others, which makes the discussion about allocating funds even more difficult.
At the beginning of each paragraph it immediately becomes clear what to expect as I mention sports centres and public parks (green spaces, parks). I managed to include all the points from our plan and I supported my arguments with some examples. Also, you can see that, for example, I didn't use the word 'I' in these paragraphs at all even though my opinion on each point is pretty clear. Instead, I used more general statements ("It is widely known that…", "considered by many as…", "…can be seen") which help convey your opinion without simply stating it.
Last but not least, both parts are balanced in terms of their length, but I don't want you to think that they have to be perfectly equal. If there is good reason to give one part a little bit more attention over the other, that's fine. For example, you can say in your essay that one of the ideas is more complex than the other, which tells the examiner that you actually thought about this instead of just having messed up your text. Be clear about it and think it through before you even start writing.
Conclusion
Finally, the conclusion of your essay is there to summarise and to give your opinion on the topic as well as to answer the question in the task (Which facilities should receive money from local authorities?). Your opinion can be nuanced and doesn't have to be simply black or white as long as you can justify what you say.
In our example, a conclusion might look something like this:
Taking into account all the positions from above I come to the conclusion that funding should be allocated to both facilities as they provide essential resources to the local community. However, due to their more social character and possibly greater public health benefits I would give more funds to sports centres.
There you have it. The conclusion summarises the findings from the body of the essay and I answered the question giving my opinion. That's really all you have to do in order to finish off your text well.
Time to start practising
With all the information provided in this article I hope you feel ready to start your journey to become an excellent essay writer. As you can see, the structure is clear and the tasks are always similar. Practise regularly in order to improve until essay writing becomes second nature for you.
Lots of love,
Teacher Phill 🙂