Reading & Use of English Part 7
If you are looking for the best information you can get about Reading & Use of English Part 7, you have come to the right place. On teacherphill.com read about Cambridge B2 First, the different parts of the exam as well as the best tips and tricks so you pass the exam with confidence. Before you even start to look into tiny details, I suggest that you start with my article about everything you need to know about the FCE exam where I answer the most important questions about the exam in general.
Once you are ready to come back to this article, don't forget to also look into my other posts on Reading & Use of English. With tons of useful info, the description of common problems and great advice you will have a full toolbox for the exam. Just click any of the links below and they will take you to the different articles.

What do you have to do in part 7?
Multiple matching. You get a text which is broken up into 4-6 parts and ten questions. Your task is to match each question to the part that gives you the answer to the question. The focus is on reading for detailed information.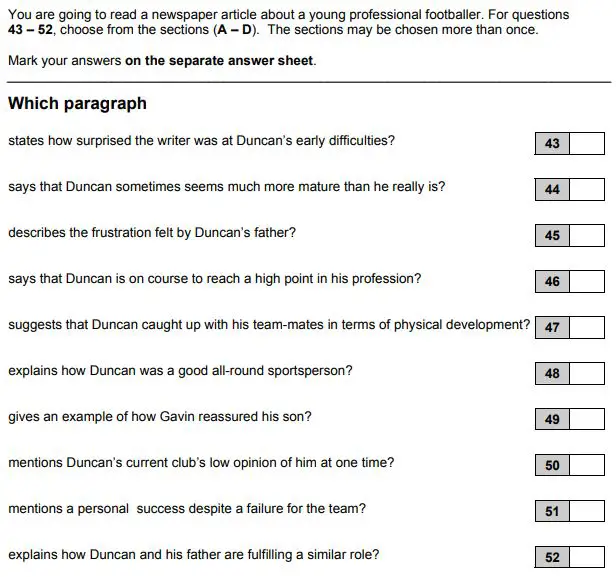 This is what the ten questions might look like. On the right you can write the letter of the matching paragraph so you remember the correct answers when you transfer them onto the separate answer sheet. All of the question are pretty specific so, unlike in parts 5 and 6 you don't have to think too much about the general idea of the text.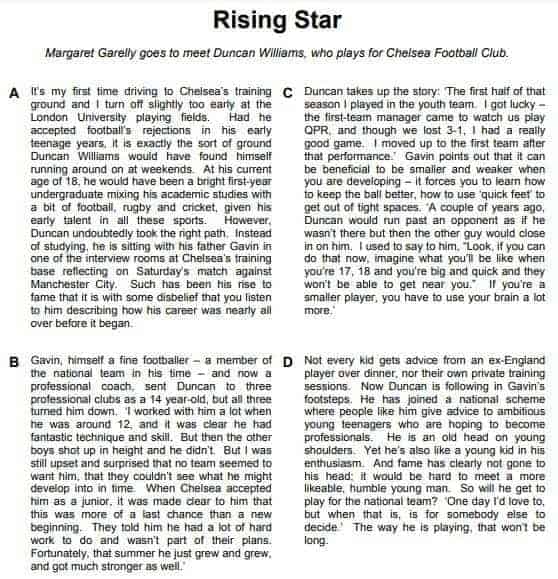 In this example there are four parts, but as mentioned above, you might see up to six in the text. Next to each of the four paragraphs you can find a letter A-D which you put in the boxes next to the questions.
Reading & Use of English Part 7 tests your ability to find specific information and detail in a text. Together with parts 1, 5 and 6 it makes the reading portion of Reading & Use of English. As all of this can be a little bit  overwhelming I prepared an extra article for you about the structure of the exam paper. Have a look and make sure you get familiar with how everything works so you won't get any bad surprises when you are taking the exam.
The 3 most difficult things about this part?
It doesn't matter if you look at Reading & Use of English or any of the other exam papers, there are always certain things that candidates often struggle with. Some of these problems are rather general, but others are more specific to each task. In this section I'm going to point out to you the three most common issues with part 7 that I have found over the years. Later, in tips & strategies, you will find a step-by-step plan to help you avoid these exact mistakes.
1. Candidates don't analyse the questions
One thing that I see all the time is that students start the task without knowing what exactly they need to look for. Spending a minute or two on the analysis of the questions can help a lot. Not only does it help with finding the correct answers, but it also saves you some valuable time for other, more difficult, tasks.
2. Candidates don't know how to deal with the task
Part 7 of Reading & Use of English is tricky because it is difficult for students to find a time-saving and effective strategy to complete the task. With ten questions and 4-6 paragraphs to look at I have seen many students get confused, nervous and, therefore, they make too many mistakes. Preparation is the key to success here and further below you will see how to go through it one step at a time.
3. Candidates have problems with time management
This is probably the most general problem in Reading & Use of English. As there are only 75 minutes for all seven parts you have to know how much time to spend on each task so you can through the exam without heart attacks and mental breakdowns. Follow my tips to prepare yourself and be ready for FCE.
[metaslider id="931″]
Tips & strategies
In the previous section I talked a lot about preparation because I want you to be able to work on your language and get ready for the exam without having to worry about the little details. Being prepared and having a good plan for each part of the exam is the most important thing to be successful. Don't leave it to luck, but instead look at the plans that I have created for you with hours of work that went into it. You will be able to improve your grammar, vocabulary, reading, listening, writing and speaking skills and when you take the exam you also know exactly what to do. Language development and knowledge about the exam are the two main pillars of exam preparation and I want you to get them both right. Let me take care of the second part and you work on the first. That's what good teamwork looks like to me. 🙂
Rule number 1 in your practice for Reading & Use of English is to have a regular reading habit. You have to read a lot in this exam paper (around 2,200 words) so get used to it as soon as you can. Start with 5-10 minutes of reading per day highlighting new words and expressions. Later you can look up everything in a good online dictionary or a great grammar book. For Reading & Use of English Part 7 I recommend reading reviews and articles where you find different opinions on one topic. Try to look for the details that make the difference in those texts because that is exactly what you are required to do in the task itself.
To avoid problems connected to bad time management or confusion about the task I have created a plan for you. If you follow this plan, you will minimise the risk of making easy mistakes and maximise the time you have to work on the text and to answer the questions.
Analyse the questions

Go through the text paragraph by paragraph

Double check your answers
1. Analyse the questions
Unfortunately, I see far too often that candidates jump straight into reading the text and matching the paragraphs to the questions. Instead, the first thing you want to do is look at the questions. Read them carefully and underline the key words that tell you what exactly to look for. Be aware that there will be similar information in the different paragraphs of the text so you have to get it 100% right, not just 80%.

For question 43 the underlining could look like my example above. Focus on the most important pieces of information so it becomes easier for you to find the correct answer.
2. Go through the text paragraph by paragraph
The biggest waste of time I see in Reading & Use of English Part 7 is when people try to find the answers question by question. Imagine you start with question 43 and you read the whole text to find the answer. Then you go to the next question and, again, you read the whole text to find the answer. If you repeat this process for each question, you have to read the text close to ten times, which takes forever and is absolutely inefficient. Listen to your teacher from Germany. We are all about efficiency here, so don't work through the task question by question. 😉
What you really want to do is to go paragraph by paragraph. That means you read the first paragraph and check which of the questions are definitely answered there before you move on to the next one and repeat it. Remember my previous example where you would have to read the whole text around ten times? Now, if you go by paragraphs, you read the text once or maybe twice until you've got it right. It takes much less time and gives you the exact same result. Let's look at an example.
In this example you can see how you can analyse a paragraph and find the information which gives you the answer to some of the questions. Here, paragraph A answers numbers 43 and 48.
Apart from saving you a lot of time, going paragraph by paragraph also makes it easier for you to complete the task because with each step the number of questions becomes smaller and smaller. Above, there are only eight questions left when you move on to B.
One last thing that you need to be very careful with is what we call 'word spotting'. In the FCE exam you will often see that some words that you can find in the questions are also somewhere in the text. However, these same words are very often placed there to confuse you. Don't fall into this trap and scan the text slowly so you actually find the correct piece of information. The best way to help you with this is to underline the part that answers the question the same way I did in the example.
3. Double check your answers
After you have matched the different questions to their answers you should always double check one last time just to be on the safe side. We get sometimes caught up in details and believe in a wrong answer. Just take a deep breath, look at the whole part again and correct mistakes if you have to.
Other tips
Reading & Use of English is the most complex exam paper for you in terms of preparing beforehand. My other tips are very specific to Part 7, but one more strategy that might help you quite a lot is to plan the sequence in which you want to go through the seven different tasks. Depending on your skills, preferences and the number of marks you can get for a correct answer in each part, you can put them in a different order to find out what is best for you. For more information on this topic read my article here.
What about the other parts?
If you think that this article has helped you, you might want to read my posts on the other parts of the Reading & Use of English exam paper as well. Just click the buttons below and learn more about the best tips and tricks to pass FCE.
Lots of love,
Teacher Phill 🙂