Reading and Writing Part 7
In this article, you are going to find out how to do Part 7 of the A2 Key Reading and Writing exam paper. You will see a typical task and I'm also going to give you useful information about common problems and great strategies that you can use to save time and get great marks.
Before we get started, I recommend looking at another article on teacherphill.com which talks about A2 Key in general. There are also a listening and speaking test in the exam and it would be a good idea to learn more about those two as well. If you wan to know more, just follow the link below.
>>> Learn more about Cambridge A2 Key <<<
What do you have to do in Part 7?
Picture story – You get three pictures and you have to write a short story about those pictures. Your story should be around 35 words long.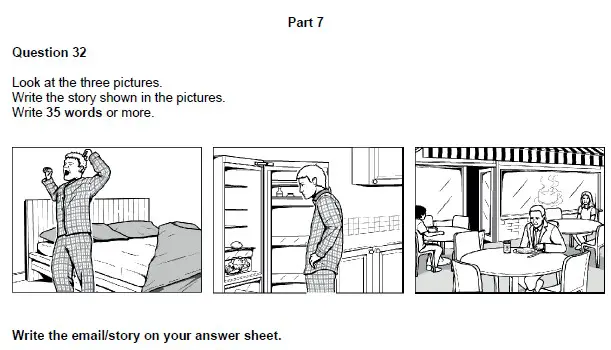 As you can see, the task is very direct. Look at the pictures and write your story.
Part 7 is one of the two writing tasks in the exam together with Part 6. You have to show that you can turn a visual idea into words and use good vocabulary and grammar.
Always remember that you need to write your final story on an extra answer sheet which you get at the beginning of the test. It is OK to make notes or write a draft on the question paper, but your final answer must go onto this answer sheet.
In Reading and Writing, there are seven parts and each part looks different and you need to do something different in each one of them. I have written an article that gives you an overview of A2 Key Reading and Writing and you can have a look by clicking the link below.
>>> Get an overview of A2 Key Reading and Writing <<<
What is difficult about Part 7?
In every part of Reading and Writing, there are some things that can be very difficult for candidates or cause problems. I'm not going to show you the ones that I often see with my own students and after that, we will examine a few possible solutions.
Time trouble
Writing a story can take time, but the problem is that in Reading and Writing, you don't have a lot of it. With its seven parts and only 60 minutes to complete them, it is very easy to run out of time and make mistakes.
You have to know exactly how the different tasks work, what you have to do and how you can save time so you can work your way through the test relaxed and with focus.
Not fully completing the task
It can happen very quickly that someone starts to write their story in Part 7 and they might write a lot about one of the photos and the last, but then they notice that there is only a little or no information about the last picture in their text.
It is really important to look at the images carefully and use all three to get ideas for your story, but in the next section about tips and strategies I'm going to tell you what you can do to avoid this mistake very easily.
Language problems
For a lot of students at this level, finding the right words and grammatical structures to write a nice little story can be difficult.
When you prepare for the exam, you should not only practise the different tasks, but also improve your language skills.
Tips and strategies for Part 7
As I said before, you need to understand how you can prepare well for A2 Key and what you can do in the exam to save time and get high marks at the same time.
In this section, we are going to find out the best to do all of these things.
General tips
If I could give just one tip to my students, I would tell them to read and listen to a little bit of English every day. It doesn't have to be two hours, but just 5-10 minutes can be very helpful. With a regular practice, you can quickly improve your grammar and vocabulary and there are so many amazing resources online that it is super easy to start.
I always recommend graded readers because the language in those stories is perfect for your level and you can find books that you can understand and enjoy and also podcasts because they can help you a lot with your listening skills and you hear a lot of vocabulary and grammar in a short time.
For some people, studying alone is not the best way to learn so I suggest taking English classes in a school near you. Cambridge English preparation centres are everywhere in the world and you can check HERE to find one that is close to you.
Follow a plan
This tip is probably the most important one for Reading and Writing Part 7. Knowing what to do in this task is very important for you because it can help you save time and do it correctly.
For Part 7, a plan might look like this:
Find key vocabulary

Make a plan

Write a draft

Write your story on the answer sheet
Find key vocabulary
The first step in Part 7 is always to look at the three pictures and to think about vocabulary that we can connect to the images.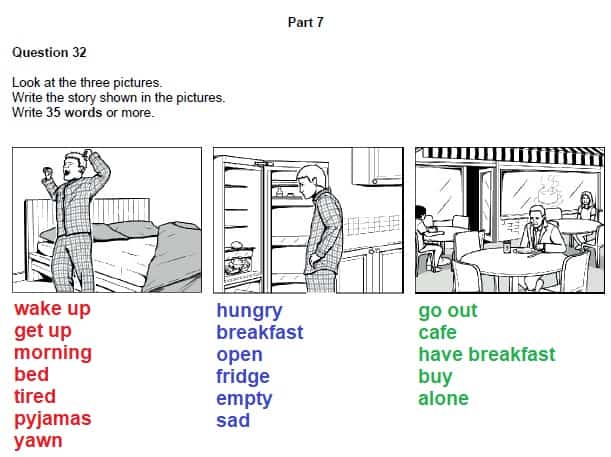 You can see here that I wrote down a few words that we could use to describe the different pictures. You don't have to write down as many words as I did, but you should look for two or three words per image. These words are important for the next steps.
Make a plan
The first step helped us to get a few ideas for our story and with those, we can make a plan so we know the structure of the text.
Every good story has a beginning, a middle part and an ending. There are three parts and three pictures so we can use the first image as the beginning, the second one as the middle and the third picture as the end.
Beginning: man got up and yawned, favourite pyjamas

Middle: was very hungry, opened the fridge, fridge empty, man was sad

End: had to go to a cafe, bought breakfast
This is all you need to do. Put your ideas into this structure and you are ready to start.
Write a draft
Before you write your final text onto the extra answer sheet, you should first write a draft. A draft is like a first try and you can make changes and correct mistakes before you write your final story.
With the ideas from the last step, a draft might look like this:
Breakfast problems

Phill got up very late and yawned. He was wearing his favourite pyjama because it was his birthday.

He was very hungry and opened the fridge, but it was empty and Phill felt sad.

In the end, he had to go to a cafe and buy some food. He bought eggs on toast and ate his breakfast alone. What a birthday!
There are a few things I would like to discuss here. First of all, it is always nice to give your story a title (Breakfast problems).
Secondly, you should use past verb forms (past simple, past continuous, past perfect) when you tell a story because most stories are in the past.
And last but not least, try to use some linking words to connect your ideas, for example, but, and, because, so, in the end, etc.).
When you finish your draft, you should check it for mistakes (spelling, grammar) and if your story has title and if you used some linking words. As soon as you are happy with it, move to the last step.
Write your story on the answer sheet
The last step is to transfer your story onto the extra answer sheet. I made this extra point because the examiner will only look at the answer sheet. They don't care about your draft or any of your notes so make sure that you transfer your story.
Remember that you don't have to check your spelling and language again because you already do that when you finish your draft. As soon as you have transferred your story, go to the next task in the exam.
Summary
In this article, you learned everything you need to write a good story in A2 Key Reading and Writing Part 7. We looked at a typical task, possible problems and the best tips and strategies to do the task quickly and with high marks.
With all this information, you can now start practising. Look for pictures on the internet and think about how you can describe them. Write down a few words and then one or two sentences to say what you can see there. After some time, this will become really easy for you and you won't have a problem in the exam.
I hope this article helps.
Lots of love,
Teacher Phill 🙂